Local Teachers Unions Face Decertification
Image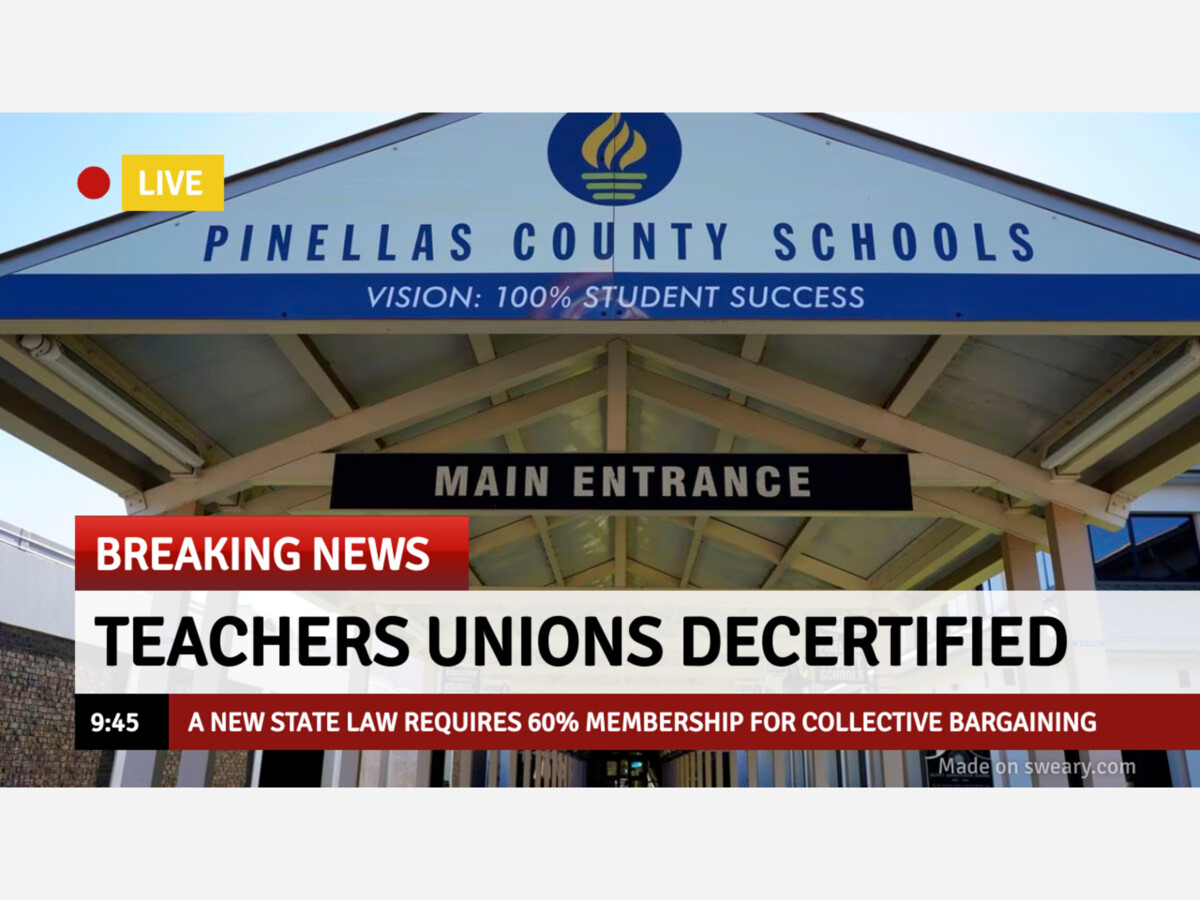 At the beginning of each Pinellas County School Board meeting, the speaker introduces distinguished guests, and that list usually includes the Pinellas County Teacher's Union bosses in attendance.  Under a new State Law passed by both the Florida House and Senate, the school board introductions may be one title shorter as the Pinellas County Teachers Union does not pass the 60% membership threshold required by the new law for recognition of collective bargaining unions.  
The bill, scheduled to take immediate effect when the Governor signs it into law later this week, passed overwhelmingly by the Florida House and Senate amidst some partisan push back, requires teachers unions that fall below a 60% membership threshold to reapply for certification only if they can gain at least 60% membership in the union.  It's unclear if that means the unions are immediately decertified, or only on an annual renewal will they lose their credentials.  Pinellas, Pasco and Hillsborough County School Teachers Unions will all have to substantiate membership exceeding 60% of teachers or lose recognition under the new law.  
Here's an executive summary of Florida Senate Bill 256, titled 
Employee Organizations Representing Public Employees
Employee Organizations Representing Public Employees; Requiring a public employee who desires to be a member of an employee organization to sign a membership authorization form beginning on a specified date; requiring an employee organization to revoke a public employee's membership upon receipt of his or her written request for revocation; prohibiting certain employee organizations from having dues and uniform assessments deducted and collected by the employer from certain salaries; revising requirements for applications for initial registrations and renewals of registration of employee organizations; revising prohibitions for employee organizations and certain persons and entities relating to employee organizations, etc.
You can read the full text of the bill here.  
In addition to the 60% threshold for union certification, the bill also :
requires the unions to immediately accommodate requests to withdraw membership from the union
eliminates lockout periods for union members, that can withdraw their membership at any time
prohibits some unions from using payroll deduction as a method of payment of union dues
revises what qualifies for union recognition, including initial applications and renewals
requires annual union re-certification and qualification
requires their financial statements be audited annually by certified public accountants
exempts emergency units like police and fire, prison and probation units from the requirements
requires the union bosses to disclose their personal salaries
The new bill will immediately affect the Pinellas Classroom Teachers Association.  Tidings Media has been critical of the teacher's union and Pinellas County School Board for negotiations ending up with salary increases for teachers that are less than that of the Pinellas County Administration.  
According to the data from the National Center for Education Statistics (NCES), the average annual salary for public school teachers in Pinellas County, Florida, was $54,042 for the 2019-2020 school year.  The consumer price index increased by more than the teacher's raises for 2022, causing Tidings Media to be critical of both the teacher's unions and the Pinellas County administration for underappreciating and underpaying teachers in Pinellas County.  
When compared to the state average, which was $48,168, Pinellas County pays its teachers above the Florida state average. However, the county's average teacher salary is below the national average, which was $63,645 for the same period. Pinellas has been having trouble recruiting and retaining teachers, turning to international exchange teachers to fill vacancies across the district.  
Several factors can impact teacher recruiting and retention. Here are some of the most significant ones:
Salary and Benefits: Teachers are professionals who need to be compensated for their knowledge and expertise. A competitive salary and benefits package can attract and retain qualified teachers.
Workload: The workload and job expectations of teachers can influence their decision to stay or leave a school or district. A heavy workload with limited support can lead to burnout and job dissatisfaction.
Professional Development: Teachers need ongoing opportunities for professional growth and development to remain engaged and motivated in their work. Lack of opportunities for professional development can lead to stagnation and a lack of career advancement.
School Leadership: The leadership of a school or district can impact teacher morale and job satisfaction. A supportive and effective leadership team can create a positive work environment that promotes collaboration, innovation, and professional growth.
Student Behavior: Student behavior can have a significant impact on teacher retention. Teachers need a safe and orderly classroom environment to teach effectively. Lack of discipline and disruptive behavior can make teaching more challenging and lead to teacher turnover.
School Culture: School culture can also influence teacher recruitment and retention. A positive school culture that values diversity, collaboration, and respect can attract and retain teachers who are passionate about education.
Community Support: Finally, community support can impact teacher recruitment and retention. A community that values education and supports its teachers can make a positive difference in attracting and retaining qualified teachers.
We will update this story with additional developments as the school districts react to this new law.  Please subscribe for free to Tidings Media for additional breaking news and local updates.
---
---