Pinellas County, FL Supervisor of Elections Sued over Election Integrity
Image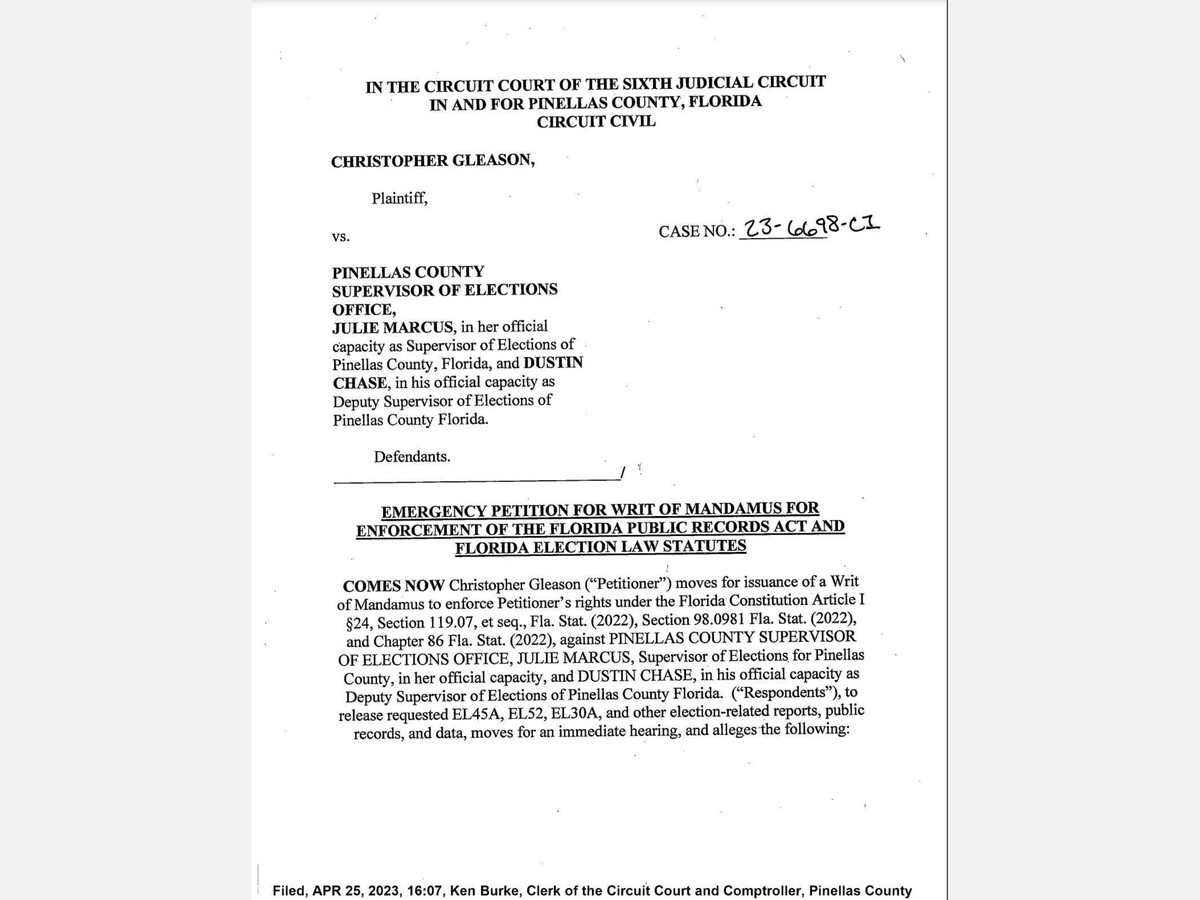 After getting stonewalled on multiple public records requests regarding specific questions surrounding the 2020 and 2022 elections in Pinellas County and voting machine election fraud, Florida, citizen journalist Christopher Gleason filed suit against Pinellas County Supervisor of Elections Julie Marcus and Deputy Secretary of Elections Dustin Chase.  (See Pinellas County Case Filing 23-6698-C1).  Marcus and Chase were served with the 134 page compliant via summons on April 27, 2023.  The emergency hearing has not been scheduled as of the date of Tidings Media's publication of this breaking story.
The emergency petition for what is called an "Writ of Mandamus" for enforcement of the public records act seeks to compel the Marcus to comply with Florida State Statutes regarding Sunshine requests aka public records requests.  A (writ of) mandamus is an order from a court to an inferior government official ordering the government official to properly fulfill their official duties or correct an abuse of discretion.
Regardless of where you sit on the integrity or lack thereof regarding the 2020 and 2022 elections, we can all agree that the Pinellas County, Florida supervisor of elections should comply with public records requests.  It's not discretionary, and the fact that the Secretary of Elections is not responding as required under Florida Sunshine laws seemingly indicates there may be a problem worth the court interceding on.
Tidings Media will continue to track this story as the case develops.  Subscribe for free to Tidings Media for future updates on this story and all breaking news in the Tampa Bay area.
---
---
Tidings Media has not investigated the veracity of the complaints contained within the legal filing.  We simply believe that all government agencies, including the Pinellas County Supervisor of Elections, should follow the law with regard to public records requests.  If there's no substantiation for the allegations of voter fraud, let the documents be released and validate the Secretary of Election's claims that the Pinellas 2020 election were accurate as certified.  The Secretary of Elections will not comment on pending litigation.  
The Tampa Bay Times has not reported on this lawsuit as of May 1, 2023.