Unaccompanied Migrant Teen Dies in Pinellas County "Safe" House
Image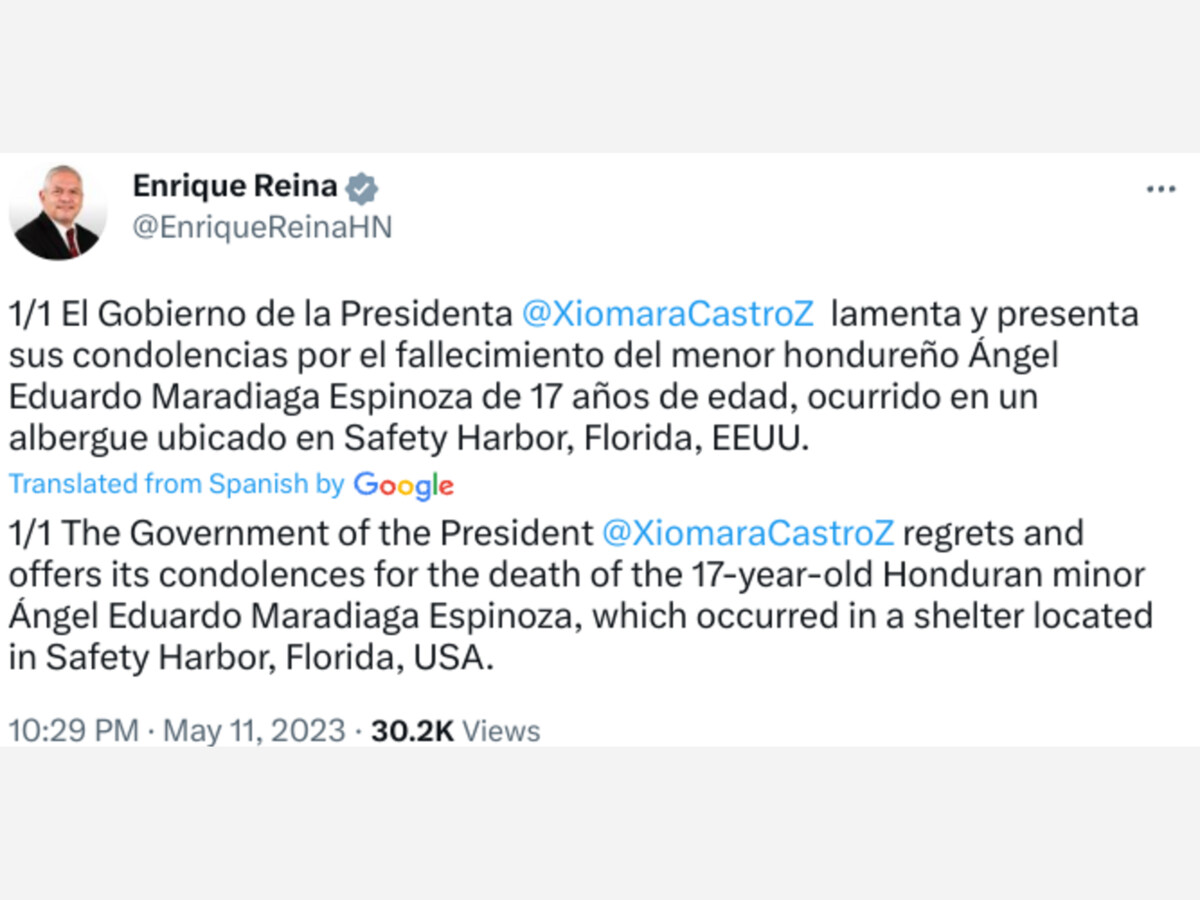 We're looking at a local story with national implications, thanks to a tip from a Tidings Media reader.
Enrique Reina, the Honduran secretary of foreign affairs, identified the child as Ángel Eduardo Maradiaga Espinoza in a Tweet on May 11, 2023 and called for an "exhaustive investigation" into his death. Reina said Espinoza was in Safety Harbor, Florida, a small city west of Tampa and the site of a shelter used to house unaccompanied children.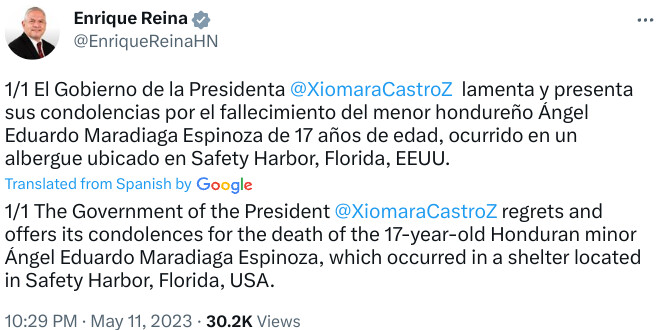 The teen, Angel Eduardo Maradiaga Espinoza, had been placed by HHS on May 5 with Gulf Coast Jewish Family and Community Services in Safety Harbor, Florida, a notification to U.S. lawmakers from the U.S. Department of Health and Human Services (HHS) refugee office said.
HHS on Friday acknowledged the death of a migrant child in U.S. custody, but did not identify the child in its statement or provide details about how or where the child died. HHS "is deeply saddened by this tragic loss and our heart goes out to the family, with whom we are in touch," the agency said, acknowledging the death.
There's a lack of transparency as far as why the teen was in Pinellas County, what the local custodial chain of command is, and ultimately who is responsible for his guardianship.  The details of his death have been confirmed by Honduras with zero color provided by Florida or Federal authorities.
Norma Saraí Espinoza Maradiaga, the mother of the Honduran teenager who died Wednesday in U.S. custody told The Associated Press that her son had no indications of ill health before his death, as far as she knew.
"He told me he was in a shelter and not to worry because he was in the best hands," Maradiaga told The AP. "We only spoke two minutes, I told him goodbye and wished him the best. I want to clear up my son's real cause of death," Maradiaga said. "No one tells me anything. The anguish is killing me." Maradiaga added, "They say they are awaiting the autopsy results and don't give me any other answer."
White House press secretary Karine Jean-Pierre called news of the death "deeply saddening."
"We are certainly aware of the tragic loss, and our hearts go out to the family," Jean-Pierre said. Jean-Pierre added that she had not spoken to President Biden about the death, and she did not know if he had been briefed on the matter. "There is a medical investigation that was opened on May 10, and so I don't want to get ahead of that," she said. "We've got to let the investigation go through."
President Biden has yet to comment on the tragic death of the young Espinoza.
Subscribe to Tidings Media and we will pass along updates to this story as we get them.
---
---