RLC Florida Releases their 2023 Legislator Scorecard
Image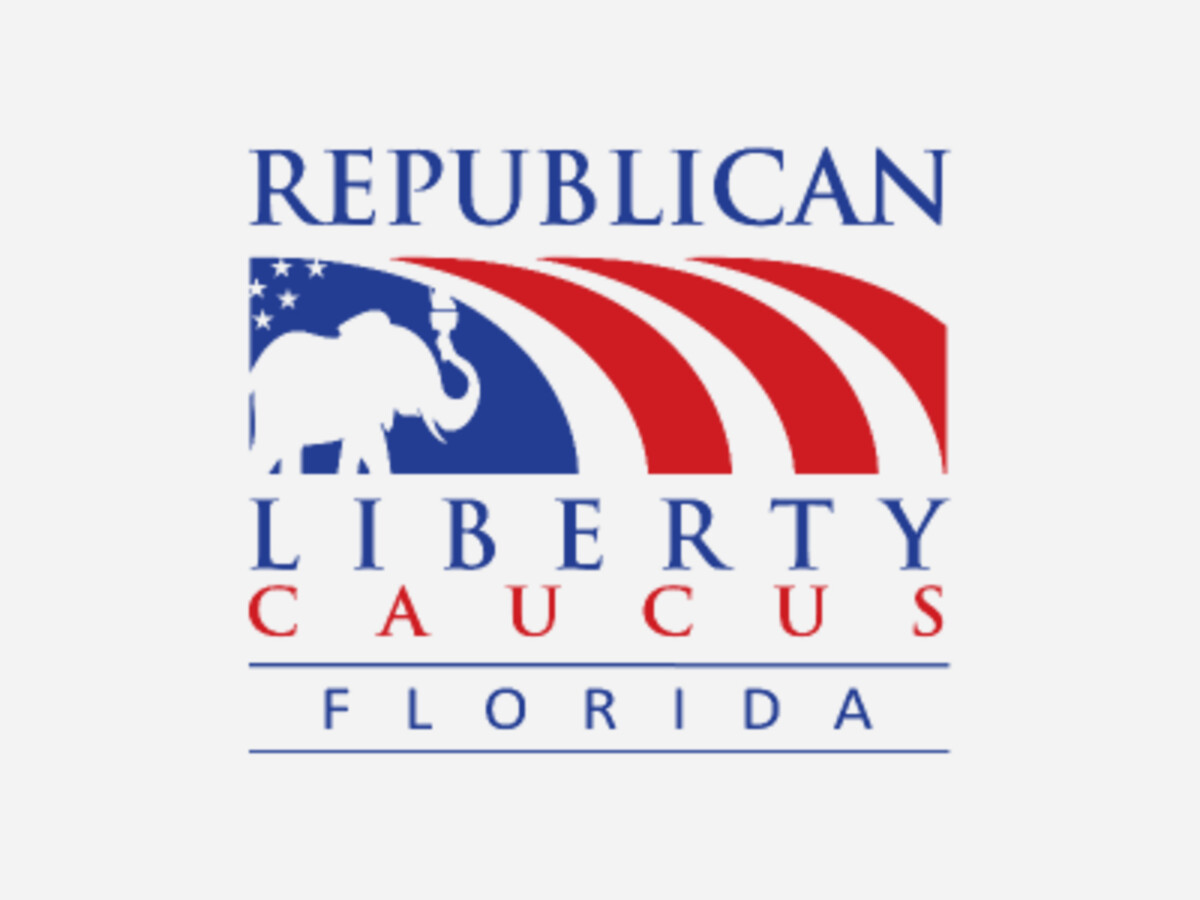 This information was provided to Tidings Media by the Republican Liberty Caucus of Florida, and is reprinted with permission.
---
The Republican Liberty Caucus is a national grassroots organization working to advance the principles of individual rights, limited government, free markets, and personal freedom and responsibility.
For more than twenty years the Republican Liberty Caucus (RLC) has been the strongest, most consistent voice for these principles within the Republican Party. Many Republicans talk about these principles, but the RLC has taken the lead in promoting Liberty candidates and advocating for Liberty legislation. We believe that less government means more liberty and we work through state and local chapters, and with our member activists all over the country to oppose government excess and demand accountability to the American people and the Constitution.
The Republican Liberty Caucus of Florida (RLCFL) believes in educating the voters of Florida on the legislative process and we feel it is important that you know how legislators voted on key issues of liberty. We put together a cross-section of legislation to provide you with the most comprehensive look into how you might evaluate your representation in Tallahassee. Holding our elected officials accountable is our primary responsibility as citizens. We hope that you will use this scorecard as a tool to do exactly that.
---
Criteria for Choosing Legislation
Legislation was selected for this scorecard based on the principles of limited government and individual liberty. Legislation that contained unnecessary spending, corporate welfare, growth of government bureaucracy or unequal enforcement of the law was deemed negative legislation. Positive legislation included bills that protected the right to defend oneself, private property rights, promoted free markets and allowing for private sector solutions. Legislation that did not change policy in any way, regardless of the public perception of the legislation, was not included. We found several pieces of legislation that appeared to be either positive or negative on the surface. However, after in-depth analysis and comparison to current policy or other extenuating circumstances, the legislation had a negligible potential effect and, in some cases, we felt the legislation was addressing the wrong issue.

Methodology
Three hundred and fifty-six bills were passed in the 2023 legislative session. All of these bills were reviewed for content only. We selected twenty pieces of legislation that passed both chambers. Scores are based on the final floor vote in each for each bill. The twenty pieces of legislation were either OPPOSED or SUPPORTED by the Republican Liberty Caucus of Florida. Points were assigned accordingly. Legislators received five-points for voting in agreement with our caucus position and zero points for voting contrary to our caucus position. Zero-point votes are designated on the scorecard as either BV (Bad Vote) or DNV (Did Not Vote).
In addition, a total of three additional bills that did not pass were chosen for bonus points. These bills address priority of the RLCFL. For each of these bills, co-sponsors earned an additional five points, and sponsors of these bills earned ten additional points for their willingness to champion RLCFL priority bills. The letter score range on the scorecard is based on increments of five points. Members who scored 90-100 points earned an A. 80-85 received a B. 70-75 received a C. 60-65 received a D, and anything below a 60 received an F grade. A plus (+) or minus (-) was assigned depending on where the score fell in the grade range.
---
List of Scorecard Bills
1. HB 1 Education. SUPPORT
2. HB 3 Government and Corporate Activism; ESG. SUPPORT
3. HB 5 Economic Programs. SUPPORT
4. HJR 31 Partisan Elections for Members of District School Boards. SUPPORT
5. SB 214 Sales of Firearms and Ammunition. SUPPORT
6. SB 254 Treatments for Sex Reassignment. SUPPORT
7. SB 256 Employee Organizations Representing Public Employees. SUPPORT
8. SB 264 Interests of Foreign Countries. SUPPORT
9. SB 266 Higher Education. SUPPORT
10. SB 300 Pregnancy and Parenting Support. SUPPORT
11. SB 450 Death Penalty. OPPOSE
12. HB 477 Term Limits for District School Board Members. SUPPORT
13. HB 543 Public Safety. OPPOSE
14. HB 1069 Education. SUPPORT
15. SB 1580 Protections of Medical Conscience. SUPPORT
16. SB 1616 Public Records/Transportation and Protective Services. OPPOSE
17. SB 1718 Unlawful Immigration. SUPPORT
18. SB 2500 Appropriations. OPPOSE
19. SB 7014 Juvenile Justice. SUPPORT
20. SB 7050 Elections. OPPOSE
Bonus Point Bills (not included in the list of twenty bills shown on the scorecard)
1. HB 1187 / SB 1216 Campaign Finance. SUPPORT
2. HB 1543 Minimum Age for Firearm Purchase or Transfer. SUPPORT
3. HB 1487 / SB 1618 Declarations of a Public Health Emergency. SUPPORT
---
2023 Champion of Liberty : No legislators in either chamber achieved this status which requires an A+ grade or higher.
Honorable Mention
Rep. Mike Beltran (R) D-27
Score: 90
Grade: A
Rep. Joel Rudman (R) D-3
Score: 90
Grade: A
Rep. Tyler Sirois (R) D-31
Score: 90
Grade: A
---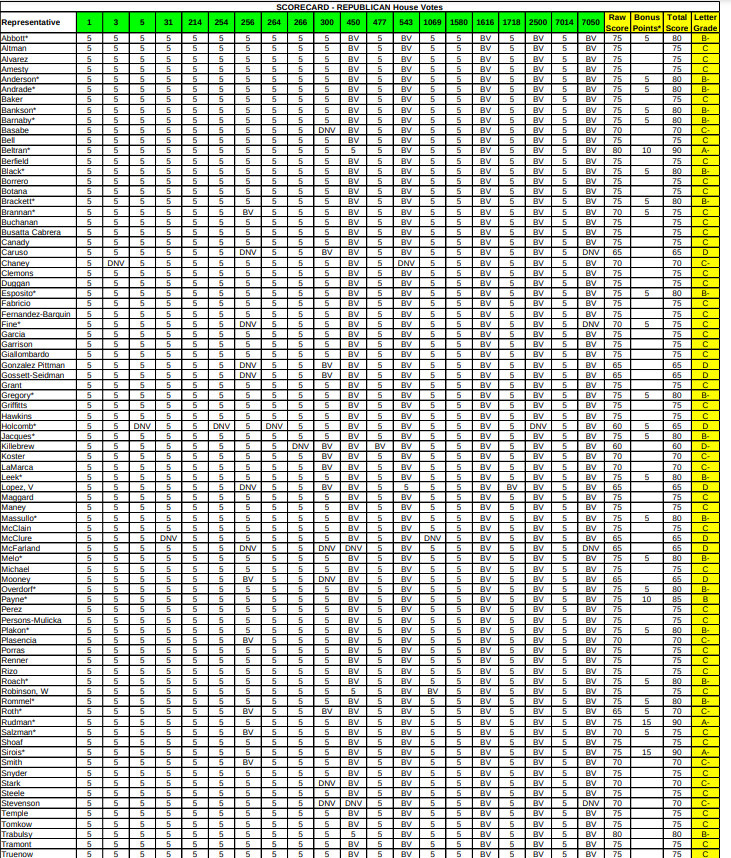 ---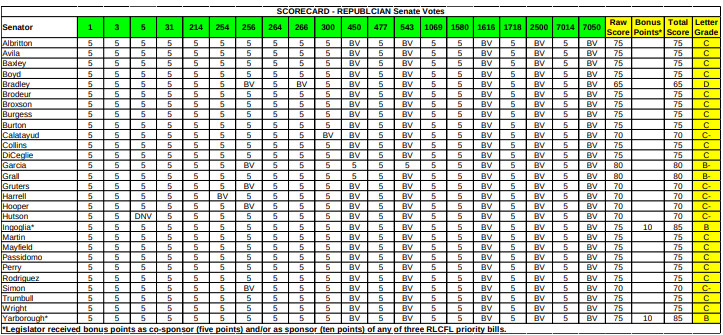 ---