Tidings Media Receives Trademark from US Patent and Trademark Office
Image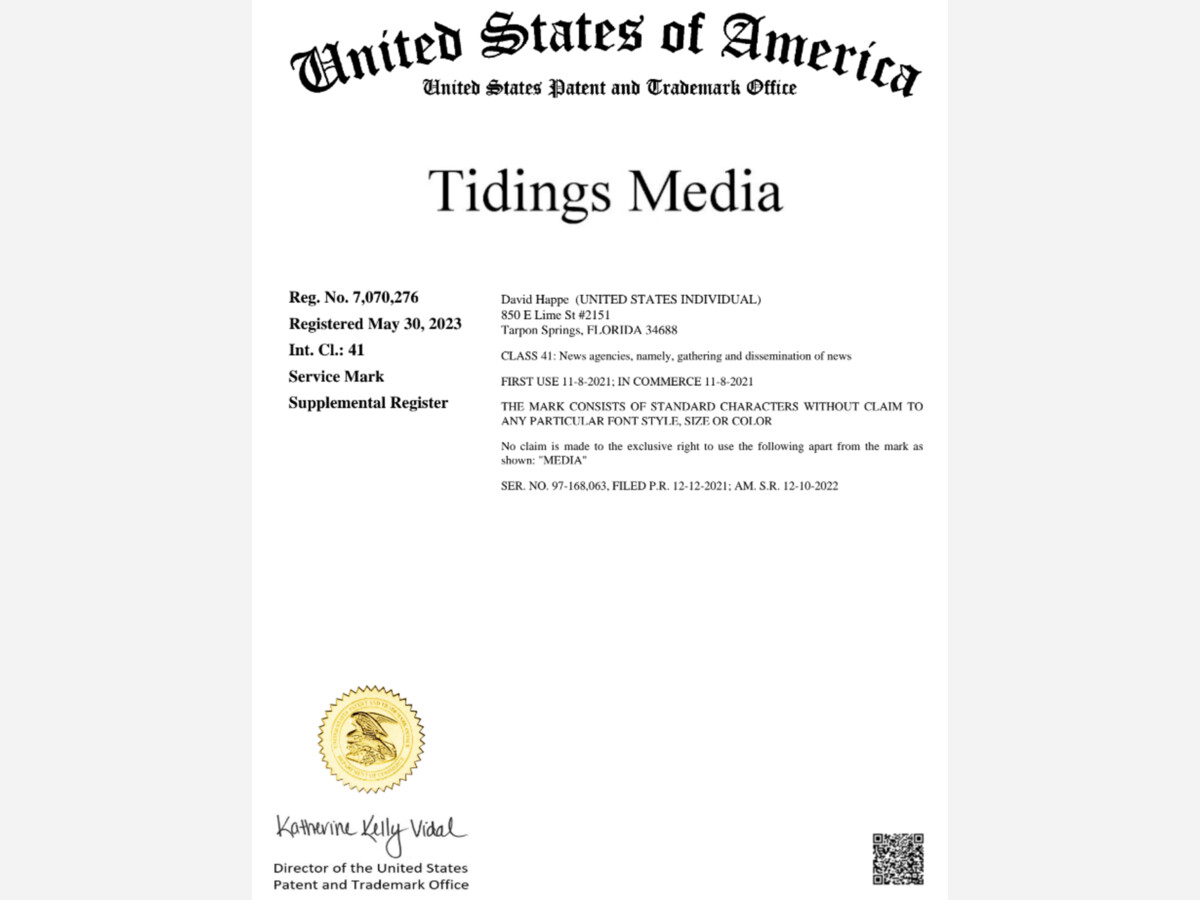 It was September, 2021.  Battle lines were being drawn for a contentious primary for the 2022 election, and in the Tampa Bay market like nearly every major metro area across the country there was only liberal dominated media.  There was no way to break through with truthful messaging, and as a result only candidates backed with big money could get messaging out.
In Tampa, there were smears being funded by dark money organizations, trojan horse infiltration of the Republican party by known left wing operatives, and great candidates emerging without the ability to share messaging through local media.
There was much discussion that an alternative media voice was needed.  Serial entrepreneur Dave Happe decided to take it on.  The first thing he did was pray about it.  If this were going to be successful, it would be attacked and seeking God's favor seemed like the logical path forward.  Through prayer, the word TIDINGS was the word Dave was asking the Lord for.  Tidings?  Why Tidings?  Then he looked up the definition, which reads like this :
Webster's 1828 DictionaryTidings
TI'DINGS, noun plural News; advice; information; intelligence; account of what has taken place, and was not before known.
Behold I bring you good tidings of great joy, which shall be to all people. Luke 2:10.
So the name was set.  Against the odds, this little media company was formed.  On October 1, 2021 Dave met with a small group of then-trusted friends to share with them what he was working towards.  Little did we know at that time that this little seed of freedom would have to withstand attacks from within and from the outside.  
September 2021 Dave believes he was given an inspired company name, "Tidings"
October 2021, Dave shares with friends the vision for Tidings
November 2021, competing interests and personal agendas would cause the loss of friendship and a defection from the friendship group invited to the October meeting.  Two of the initial three people invited to that meeting still contribute significantly to Tidings in a volunteer capacity to this very day!
December 2021, the initial trademark application is filed with the USPTO
March 2022, through a hack the Tidings Media Instagram page is stolen, and a legal escalation ensues
March 2022, the Instagram page is returned to Happe
September 2022, the USPTO issues a non-final DECLINE of the trademark, requiring a legal response
Fall 2022, Tidings is in full swing with multiple community journalists, chronicling aspects of the 2022 election that can only be found at Tidings.News
Winter 2022, in a dispute with hosting company, Tidings is temporarily off line
February 2023, the USPTO decides to reconsider the trademark
Spring 2023 Happe is targeted by a left wing activist leading to a court protective order
Spring 2023 Tidings website is relaunched
May 30, 2023, Tidings Media is officially recognized by the United States Patent and Trademark Office with a Registered Trademark!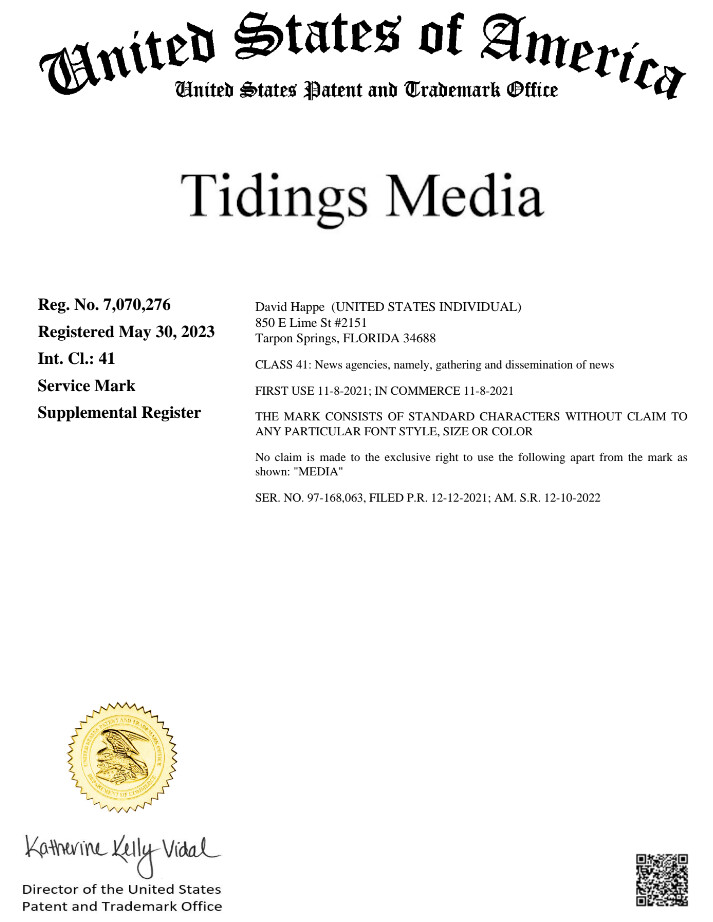 ---
This is only the beginning of the story, as we believe Tidings has yet to become what God intends it to become.  Stay tuned, and subscribe for future updates as this story continues to be written.  To God be the glory, great things He has done.
---
---