The Looming Homeowners Insurance Crisis in Florida: Insurers Retreat and Citizens Insurance Cancels Policies
Image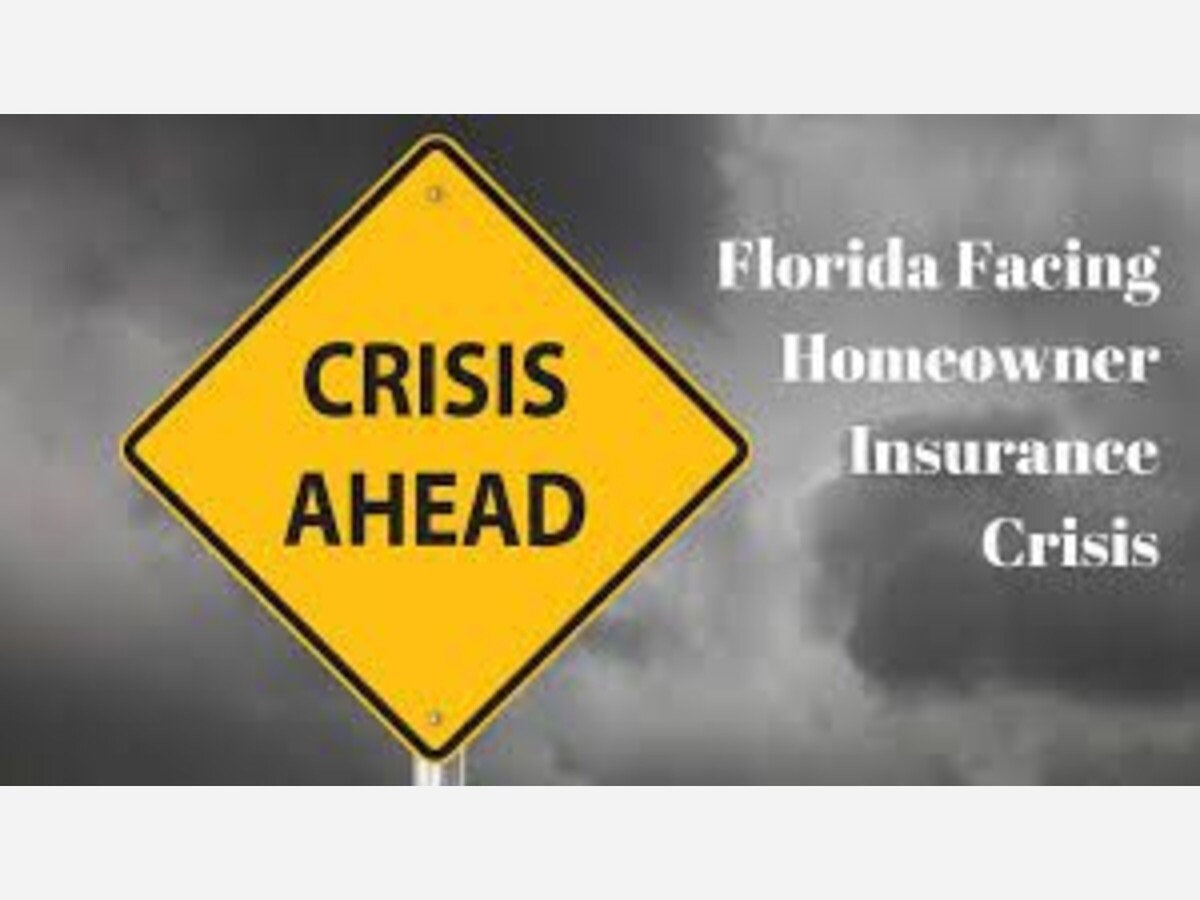 Florida, the Sunshine State, is facing an unprecedented homeowners insurance crisis that is leaving residents in a state of uncertainty and vulnerability. Homeowners insurance plays a vital role in protecting Floridians against the unpredictable nature of hurricanes, floods, and other natural disasters. However, the situation has taken a grim turn as both private insurers and the state-owned Citizens Insurance have been forced to cancel policies and withdraw from the market, leaving homeowners scrambling for coverage. In this article, we delve into the causes and consequences of the homeowners insurance crisis in Florida, highlighting the dire implications for residents.
The Exodus of Insurers:
One of the primary causes behind Florida's homeowners insurance crisis is the exodus of private insurers from the state. In recent years, insurance companies have been hit hard by the surge in catastrophic events and mounting claims costs. The repeated battering by hurricanes and tropical storms, coupled with the state's unique geographic location, has resulted in increased risks and financial burdens for insurers. As a result, many insurance companies have been compelled to reduce their exposure to Florida's volatile market.
Citizens Insurance: A Troubled State of Affairs:
Citizens Property Insurance Corporation, a government-backed insurer, was established in 2002 as the "insurer of last resort" to provide coverage to homeowners who couldn't find policies in the private market. However, even Citizens Insurance has been forced to take drastic measures to address its financial vulnerabilities. In an effort to reduce its exposure and stabilize its finances, Citizens has been canceling policies at an alarming rate, leaving thousands of homeowners without coverage.
The Ripple Effects on Homeowners:
The repercussions of the homeowners insurance crisis in Florida are far-reaching and impact residents on various levels. As private insurers retreat and Citizens cancels policies, homeowners are left with limited options and skyrocketing premiums. Those fortunate enough to find alternative coverage face the burden of significantly higher costs. However, for many homeowners, finding a replacement policy is increasingly difficult, leading to a rise in uninsured or underinsured properties. This situation puts homeowners at risk of financial ruin in the event of a disaster.
The Need for Action:
The worsening homeowners insurance crisis in Florida demands urgent attention from policymakers, regulators, and industry stakeholders. Collaborative efforts are required to address the underlying issues, restore stability to the market, and protect homeowners from the potential devastation of natural disasters. It is imperative that the state government takes proactive measures to attract insurers back to Florida, ensuring that homeowners have access to affordable and comprehensive coverage.
Potential Solutions:
Encouraging risk mitigation: Implementing stringent building codes and incentivizing homeowners to fortify their properties against natural disasters can help reduce risks and lower premiums.
Legislative reforms: Lawmakers need to assess the current regulatory framework and identify areas for improvement. Streamlining the claims process, reducing litigation, and addressing fraudulent activities can contribute to a healthier insurance market.
Attracting insurers: Florida must work towards creating an environment that entices insurance companies to remain or reenter the market. This may involve offering financial incentives, enhancing the predictability of regulatory decisions, or establishing risk-sharing mechanisms.
The homeowners insurance crisis in Florida, characterized by the retreat of private insurers and the cancellation of policies by Citizens Insurance, has created a state of uncertainty and vulnerability for homeowners. Urgent action is required to address the root causes of the crisis, protect residents, and ensure the availability of affordable coverage. By implementing risk mitigation strategies, enacting legislative reforms, and fostering an attractive business environment, Florida can pave the way for a more stable and sustainable homeowners insurance market, safeguarding the interests of its residents for years to come.
---
The following information was provided to Tidings Media by the Office of Governor Ron DeSantis regarding legislation just signed trying to help homeowners dealing with Florida insurance problems.  While this doesn't deal with the exodus of insurers fleeing Florida, at least the Florida Legislature is trying to help homeowners dealing with the insurance crisis.  
Governor DeSantis Signs Consumer Protection Legislation to Support Florida Policyholders When Disaster Strikes
May 31, 2023
TALLAHASSEE, Fla. — Today, Governor DeSantis signed three bills that strengthen Florida's property insurance market, expand the state's home hardening and hazard mitigation programs, and further protect consumers against bad actors. These actions build on the Governor's strong record of instituting meaningful reforms to Florida's property insurance market. Additionally, Governor DeSantis is announcing the approval of an additional $100 million in the 2023–24 General Appropriations Act for the My Safe Florida Home Program which provides grants to Florida homeowners for hurricane retrofitting, making homes safer and more resistant to hurricane damage and bringing the state's combined investment to $250 million over the past year.
"Since taking office, Florida has instituted a series of reforms to increase consumer choice and accountability in our insurance market," said Governor Ron DeSantis. "The bills I've signed today reinforce our commitment to Florida policyholders by investing in hazard mitigation programs and instituting a series of accountability measures that protect consumers from predatory insurer practices."
"Under the leadership of Governor DeSantis, over the last several years, during regular and special sessions, we have worked on reforms to strengthen the property insurance market in our state so policyholders have access to quality, affordable, private market property insurance," said Senate President Kathleen Passidomo. "Ultimately, every homeowner needs property insurance that is reliable and affordable. When disaster strikes, we want to make sure impacted Floridians can successfully navigate the claims process and be compensated for losses in a timely manner. SB 7052 continues our efforts to balance fair costs and protections for consumers, while strengthening state review and analysis of the insurance market so that bad actors can be held accountable. I commend the team effort on this legislation, bringing stakeholders together to put forward a strong and meaningful insurer accountability package that enhances consumer-friendly provisions of current law and increases transparency between homeowners and insurance companies."
"The insurance legislation signed by Governor DeSantis today increases accountability of insurers and transparency in the marketplace," said House Speaker Paul Renner. "It not only empowers homeowners but also cultivates market-driven competition, ultimately leading to lower costs. By establishing clear standards, fostering consumer trust, and promoting fair practices, we can pave the way for a resilient and affordable insurance landscape that benefits homeowners and their communities."
"A healthy insurance market results in a wide array of consumer choices, competition on price and coverage options, and insurers that are financially strong and able to promptly pay the full value of claims. Unfortunately, due primarily to excessive litigation, Florida's insurance market has grown increasingly unhealthy. Many property insurers have gone insolvent, left the state, or reduced their willingness to write new policies," said Senator Travis Hutson. "Under the leadership of Governor DeSantis, we have taken aggressive action to solve this problem, passing major property insurance legislation in 2021 and 2022, and then passing major legal reforms that affect most lines of insurance. The goal of all of this activity has not been to benefit the insurance industry but rather to benefit policyholders. However, we have no desire to go from a system that enriches trial lawyers, to a system that incentivizes insurance companies to use the law to avoid paying claims that should be paid. This legislation is a great step in the right direction for Florida homeowners."
"Governor DeSantis and the Florida Legislature continue to demonstrate their commitment to Florida's policyholders, and I thank them for their leadership on this legislation," said Insurance Commissioner Michael Yaworsky. "As we work to implement the legislation signed today, the Florida Office of Insurance Regulation (OIR) will continue to support both a competitive market and ensure that when a bad actor is identified, we utilize the full extent of our regulatory authority to ensure policyholders are protected."
Senate Bill 7052, signed by the Governor today, enacts several consumer protection measures that further increase competition and accountability in Florida's property insurance market by:
Clarifying that once a roof deductible is applied, no other deductible under the policy may be applied to any loss caused by the same covered peril.
Tolling the time period for an individual deployed to a combat zone or combat support posting to file a property insurance claim for the duration of the deployment.
Requiring property insurance mitigation discounts be updated at least every five years and requiring insurers to provide consumer-friendly information on their website describing hurricane mitigation discounts available to policyholders.
Requiring liability insurers to follow proper claims handling practices on behalf of their policyholders and increasing penalties for insurers who don't.
Prohibiting any altering or amending of an adjuster's report without providing a detailed explanation for any reduction of the estimate of the loss.
Prohibiting officers and directors of impaired or insolvent insurers from receiving a bonus.
Increasing the maximum administrative fines that may be levied by the OIR on insurance companies by 250 percent generally, and 500 percent for violations stemming from a state of emergency such as a hurricane.
The Governor also signed HB 799 related to property insurance. The bill expands mitigation discount programs for policyholders by:
Requiring a property insurer's residential rate filing to allow for mitigation discounts which reduce the potential for windstorm losses.
Requiring residential property insurers to provide reasonable discount, credit, or appropriate reduction in deductibles for wind uplift prevention measures as a part of their rate filings.
Clarifying provisions included in Senate Bill 2A related to Citizen's Property Insurance Corporation flood insurance coverage requirements.
HB 881, signed by the Governor today, expands eligibility for the My Safe Florida Home Program, ensuring more Floridians can participate. The program was first included in Senate Bill 2D signed by the Governor last year, and upgrades funded through the program can result in premium discounts for program participants.
(c) Tidings Media, June 2023.  All Rights Reserved.