Buccaneers Release 2023 Season Schedule
Image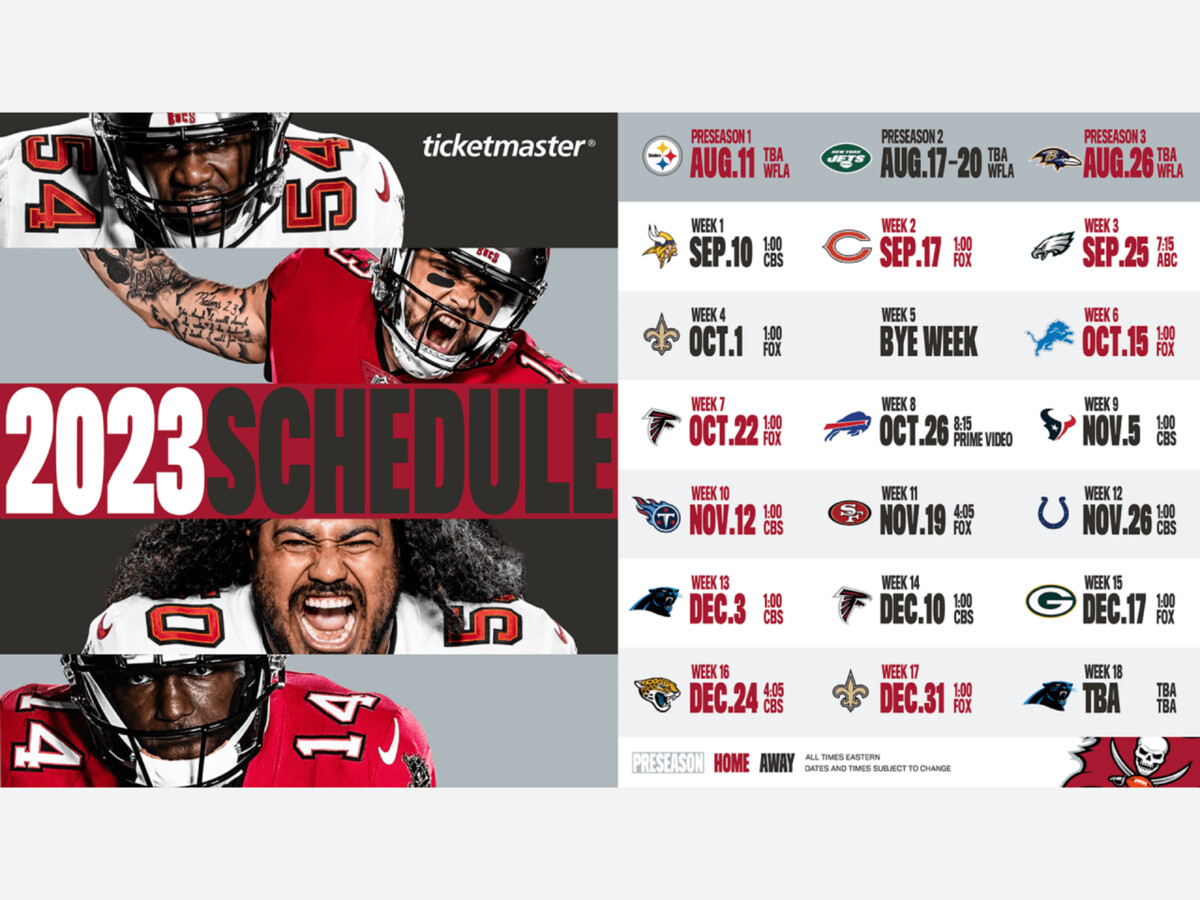 The Tampa Bay Buccaneers' defense of consecutive NFC South titles will begin in one of their former divisional destinations, wind through two prime-time contests against likely Super Bowl contenders and five games overall against 2022 playoff teams, take a potentially chilly turn in mid-December and finish with a pair of games that could decide if the South crown stays in Florida.
The NFL released its full 272-game regular season schedule for 2023 on Thursday evening, and Tampa Bay's own slate starts at Minnesota on Sunday, September 10. Highlights of the Bucs' 17-game schedule include a Monday Night Football matchup on September 25 with the defending NFC champion Philadelphia Eagles and a Thursday night trip to Buffalo on October 26. The entire schedule is listed below.
The season starts off with a bang for the Buccaneers, who will face two of the NFC's top seeds from last season during the first three weeks. The Vikings won the NFC South in 2022 with a 13-4 record while the Eagles posted an NFL-high 14 wins and advanced to Super Bowl LVII, where they narrowly lost a thriller to the Kansas City Chiefs. The Bucs will also see 2022 playoff squads in Week Eight at Buffalo, Week 11 at San Francisco and Week 16 at home against Jacksonville.
The Bucs will return to Lambeau Field for the first time since they beat the Green Bay Packers in the 2020 NFC Championship Game on a windy, frigid night in late January. They're likely to face more freezing conditions in their return in Week 15, with the game set for Sunday, December 17.
The season ends with a pair of games that could be critical in a division that saw all four teams separated by just one game in last year's final standings. The Buccaneers will play host to the New Orleans Saints in Week 17 on the afternoon of New Year's Eve, then finish up the next weekend with a trip to Carolina.
Single game tickets are now on sale! If you want to capture the magic of the Bucs' 2023 season with a front row seat to the action, click here to purchase your tickets starting Thursday at 8pm.
2023 Buccaneers' season passes are also on sale now! For Bucs' football fanatics, not only do season passes provide a seat at every home game at Raymond James Stadium but passes also come with an entire year of exclusive Krewe Member benefits including discounts at the team store and in-stadium concession stands, VIP access to Training Camp and the official Buccaneers Draft Party, and more. Click here to select your seats and join the Krewe!
The NFL introduced an enhanced schedule in 2021 that covers 17 games per team over 18 weeks, this year concluding on January 8. The Buccaneers get their bye week relatively early in that schedule, as they are off in Week Five after a Week Four trip to New Orleans. It is the earliest bye the Bucs have been afforded since 2018, when they were also idle in Week Five. The "17th Game" is a fifth interconference matchup, with the Buccaneers drawing the Bills because both teams finished in first place in their respective divisions in 2022.
Below is the Buccaneers' 2023 game schedule, including the three-game preseason slate which is still awaiting specific dates and times, followed by more notes (all times Eastern):
Preseason:
Table inside Article
| Day | Date | Opponent | Time | Network |
| --- | --- | --- | --- | --- |
| Fri. | Aug. 11 | PITTSBURGH | TBD | WFLA-TV |
| TBD | Aug. 17-20 | at N.Y. Jets | TBD | WFLA-TV |
| Sat. | Aug. 26 | BALTIMORE | TBD | WFLA-TV |
Regular Season
Table inside Article
| Week | Day | Date | Opponent | Time | Network |
| --- | --- | --- | --- | --- | --- |
| 1 | Sun. | Sept. 10 | at Minnesota | 1:00 PM | CBS |
| 2 | Sun. | Sept. 17 | CHICAGO | 1:00 PM | FOX |
| 3 | Mon. | Sept. 25 | PHILADELPHIA | 7:15 PM | ABC |
| 4 | Sun. | Oct. 1 | at New Orleans | 1:00 PM | FOX |
| 5 | | | Bye Week | | |
| 6 | Sun. | Oct. 15 | DETROIT | 1:00 PM | FOX |
| 7 | Sun. | Oct. 22 | ATLANTA | 1:00 PM | FOX |
| 8 | Thurs. | Oct. 26 | at Buffalo | 8:15 PM | Prime Video |
| 9 | Sun. | Nov. 5 | at Houston | 1:00 PM | CBS |
| 10 | Sun. | Nov. 12 | TENNESSEE | 1:00 PM | CBS |
| 11 | Sun. | Nov. 19 | at San Francisco | 4:05 PM | FOX |
| 12 | Sun. | Nov. 26 | at Indianapolis | 1:00 PM | CBS |
| 13 | Sun. | Dec. 3 | CAROLINA | 1:00 PM | CBS |
| 14 | Sun. | Dec. 10 | at Atlanta | 1:00 PM | CBS |
| 15 | Sun. | Dec. 17 | at Green Bay | 1:00 PM | FOX |
| 16 | Sun. | Dec. 24 | JACKSONVILLE | 4:05 PM | CBS |
| 17 | Sun. | Dec. 31 | NEW ORLEANS | 1:00 PM | FOX |
| 18 | TBD | TBD | at Carolina | TBD | TBD |
· All times Eastern and subject to change.
· Sunday night games in Weeks 5-17 subject to change.
· Monday night games in Weeks 13-18 subject to change.
Here are some additional notes regarding the Buccaneers' 2022 schedule:
· Other than their Week 15 trip to Green Bay, the Buccaneers do not appear to have too many weather concerns on their 2023 schedule. The season-capping trip to Charlotte in early January could include cold weather, but otherwise the latest the Bucs are playing outdoors and not in Florida is November 19 at San Francisco. Five of Tampa Bay's nine road games will be against teams that play in domed stadiums: Minnesota, New Orleans, Houston, Indianapolis and Atlanta.
· The Buccaneers will find out early if their defense is effective against dual-threat quarterbacks who figure substantially into their team's rushing attacks. The Chicago Bears come to Tampa in Week Two, led by third-year quarterback Justin Fields, who ran for 1,143 yards in 2022, the second-highest mark ever by an NFL quarterback. Next to town in Week Three is Jalen Hurts of the Eagles. Hurts finished second in the NFL's MVP voting last year after supplementing his outstanding passing numbers (3,706 yards, 22 touchdowns) with 760 yards and 13 touchdowns on the ground. A month later, the Buccaneers' defense will encounter Josh Allen in Buffalo; Allen has averaged more than 600 rushing yards per season in his five years in the league and last year accounted for 762 yards and seven scores. Depending upon how the development of Anthony Richardson, the fourth-overall pick in the 2023 draft, goes in Indianapolis, a Week 12 trip to take on the Colts could pose another similar threat.
· There were three quarterbacks taken in the first round of the 2023 draft, a fourth selected with the second pick of the second round and a fifth snagged early in the third round. The Buccaneers could end up facing all of them this season. Carolina started the draft by taking Alabama's Bryce Young with the first-overall pick and the Bucs will take on their division foes in Weeks 13 and 18. The second pick of the draft, by Houston, was Ohio State quarterback C.J. Stroud; the Bucs head to Houston in Week Nine. As noted, Richardson went to the Colts with the fourth pick and Tampa Bay could se him in Week 12. In the second round, Tennessee traded up to get Kentucky's Will Levis and will bring him to Tampa in Week 10. Finally, the Detroit Lions chose Tennessee's Hendon Hooker with the fifth pick of the third round; given the presence of Jared Goff and Hooker's recovery from a knee injury, it seems unlikely he will be on the field when the Lions come to Tampa in Week Six.
· The Buccaneers will play back-to-back home games three times during the 2023 season: Chicago and Philadelphia in Weeks Two and Three; Detroit and Atlanta in Weeks Six and Seven; and Jacksonville and New Orleans in Weeks 16 and 17.
· The Buccaneers will also play back-to-back road games three times during the 2023 season: at Buffalo and Houston in Weeks Eight and Nine; at San Francisco and Indianapolis in Weeks 11 and 12; and at Atlanta and Green Bay in Weeks 14 and 15. From October 26 through December 17, the Buccaneers will only play two games at home in a span of eight weeks. This will mark just the third time in franchise history that the team will play six road games in a span of eight weeks. Their were similar occurrences in 1978 and 2017.
· Since 2009, the NFL has made it part of their scheduling requirements that each team plays an opponent from within its own division in the final week of the regular season. This season, the Bucs' Week 18 itinerary takes them to Charlotte to face the Carolina Panthers. The Panthers were also Tampa Bay's final opponent in 2021, though that game was at Raymond James Stadium. This marks just the second time the Buccaneers concluded a regular season at Carolina; the first was in 2015. The Bucs will have the Saints in town in Week 17, so this will be the second season in a row that Tampa Bay finishes the year with two straight NFC South opponents.
· The Buccaneers will make more appearances on CBS in 2023 than usual, a result of the NFL scrapping its previous method of having the visiting team's conference determine to which network a game would belong. All games were "free agents" this year, and the Buccaneers ended up on CBS seven times (the dates and networks for Week 18 have not yet been determined). Tampa Bay has seven games on FOX, as well, plus one on ABC and one on Prime Video.
· The Buccaneers will play afternoon games on both Christmas Eve and New Year's Eve this season. They have played on December 24 eight times previously, compiling a 2-6 record. They have played on December 31 three times previously, including at Philadelphia in the 2000 playoffs, and are 1-2 in those games.
· Tampa Bay plays a road game in Houston in Week Nine and will get a chance to log a regular-season win in that city for the first time in franchise history. They are 0-2 in Houston against the Texans, who began play in 2002, and were 0-4 on the road against the Oilers before their 1997 relocation to Nashville.
· The Buccaneers will play a regular-season game in Buffalo for just the third time in 48 seasons. The Bucs and Bills met eight times between 1976 and 2005, but each of those games was played in Tampa. The Bucs first regular-season trip to Buffalo did not occur until 2009, and the second was in 2007. The Bucs are 8-4 overall against Buffalo, their best winning percentage against any team, but are 0-2 in upstate New York.
---
This information was provided to Tidings Media by the Tampa Bay Buccaneers and it is reprinted with permission.  #GoBucs #SeigeTheDay